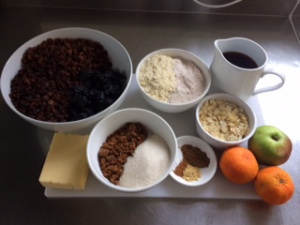 Ingredients
Serves 16
For the Cake
500g Sultanas
400g Raisins
200g Chopped Prunes
1 Bramley Apple – Grated
2 Small Oranges – Zest and Juice
700ml Hot, Strong, Freshly Brewed Tea
250g Butter
125g Dark Muscovado Sugar
125g Raw Cane Sugar
225g Spelt Flour
100g Ground Almonds
1 tsp Baking Powder
2 tsp Mixed Spice
1 tsp Ground Cinnamon
1 tsp Ground Ginger
1 tbsp Black Treacle
1 tsp Vanilla Extract
100g Flaked Almonds
4 Eggs
For the Marzipan
200g Ground Almonds
75g Raw Cane Sugar
75g Icing Sugar
1 Egg
For the Royal Icing
225g Icing Sugar
1 Egg White
Method
Place the Sultanas, Raisins and Chopped Prunes into a bowl and cover with the Tea ensuring the fruit is fully submerged. Add the Grated Apple, Orange Zest and Juice to the bowl. Cover with cling film for 4 hours or ideally overnight to impart flavour.

Preheat oven to 150°C/Gas Mark 3, line a 25cm Round Baking Tin on the bottom and around the sides.

Cream the Butter and Sugars until pale, ensuring the sugar is fully incorporated and there are no large lumps. Gradually add the Eggs one at a time, fold in the Black Treacle, Vanilla Extract, Spices, Baking Powder and Flaked Almonds.

Strain the Dried Fruit but save around 100ml of the liquid for the cake. Fold in the fruit until thoroughly mixed in and add the liquid that has been saved. Mix until smooth.

Place the mixture into the lined Baking Tin and put into the oven on the middle shelf. Cook for 2 hours, take out of the oven and place a sheet of foil over the top of the cake tin. Place back into the oven for a further 1½ hours. Once cooked the cake should be firm to the touch, place on a wire rack and allow to cool.

To make the Marzipan, sieve together the Raw Cane Sugar, Ground Almonds and Icing Sugar into a bowl. Beat in the egg until smooth and forms a dough-like consistency. Refrigerate until needed.

To make the Royal Icing, lightly whisk the Egg White until a few bubbles form then mix in the icing sugar a spoonful at a time to keep the icing smooth. Once ready it should form a thick paste, add more Icing Sugar if it is a little too thin. Keep to one side, stirring occasionally until needed.

To decorate, brush the top of the cake with a little jam. Roll out the marzipan until half a centimetre thick, lay onto the top of the cake and trim around the edges so you have one disc of Marzipan. Spoon the Royal Icing into the middle of the disc and smooth outwards until it reaches the edge of the disc.

Allow the Icing to set a little then serve.