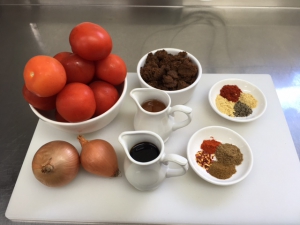 Ingredients
Makes 2 Jars
1kg Fresh Tomatoes
2 Cloves Garlic
2 Onions
2 tsp Smoked Paprika
1½ tsp Ground Cumin
1 tsp Ground Coriander
1 tsp Mustard Powder
1 tsp Black Pepper
1½ tsp Ground Ginger
1½ Chilli Flakes
1½ Cayenne Pepper
3 tsp Salt
125ml Apple Cider Vinegar
125ml Balsamic Vinegar
200g Dark Muscovado Sugar
2 Tbsp Tomato Puree
Method
Roughly chop the Onions and Garlic, fry in a large saucepan on a medium heat until softened. Add the salt and spices then cook for a further minute until fragrant.

Add the Fresh Tomatoes and cook for around 5 minutes on a medium to high heat, to release the juices from the Tomatoes.

Add the Sugar and Vinegars to the pan, turn down the heat and simmer for 15 minutes stirring occasionally until the sauce begins to thicken.

Add the Tomato Puree and blend the sauce until smooth, return the sauce to a clean pan and reduce the sauce until you are happy with the consistency.

Check the seasoning and adjust the sauce to your liking. If you prefer the sauce a little sweeter add ½ Tablespoon of Honey, if you prefer the sauce a little spicier add a dash of Tabasco or a pinch of Chilli Flakes or if you prefer the sauce a little more Acidic add a little more Apple Cider Vinegar.