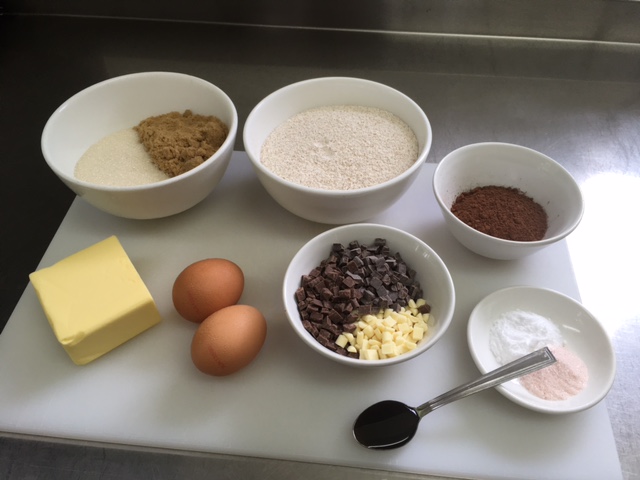 Ingredients
Makes 16 Cookies
275g Spelt Flour
25g Cocoa Powder
½tsp Bicarbonate of Soda
½tsp Salt
175g Softened Butter
125g Light Muscovado Sugar
125g Raw Cane Sugar
2 Eggs
1 tsp Vanilla Extract
50g Dark Chocolate
50g Milk Chocolate
50g White Chocolate Chips
Method
Cream together the Butter and Sugars until pale, add the eggs one at a time until combined.

Stir in the dried ingredients until a soft dough is formed.

Roll out a long sheet of cling film and spread the dough along the cling film.

Roll the dough into a long, sausage shape and place into the freezer to harden.

Once the dough has gone hard, preheat the oven to 200°C/Gas 5. Remove the cling film and cut the dough into 1 inch (2-3cm) discs, place them evenly onto a lined baking tray leaving a gap between each disc.

Bake on the top shelf of the oven for 8-9 minutes, once cooked transfer them onto a cooling rack.

Allow the cookies to harden a little before serving.