Caramelised Onion, Beetroot & Goats Cheese Tart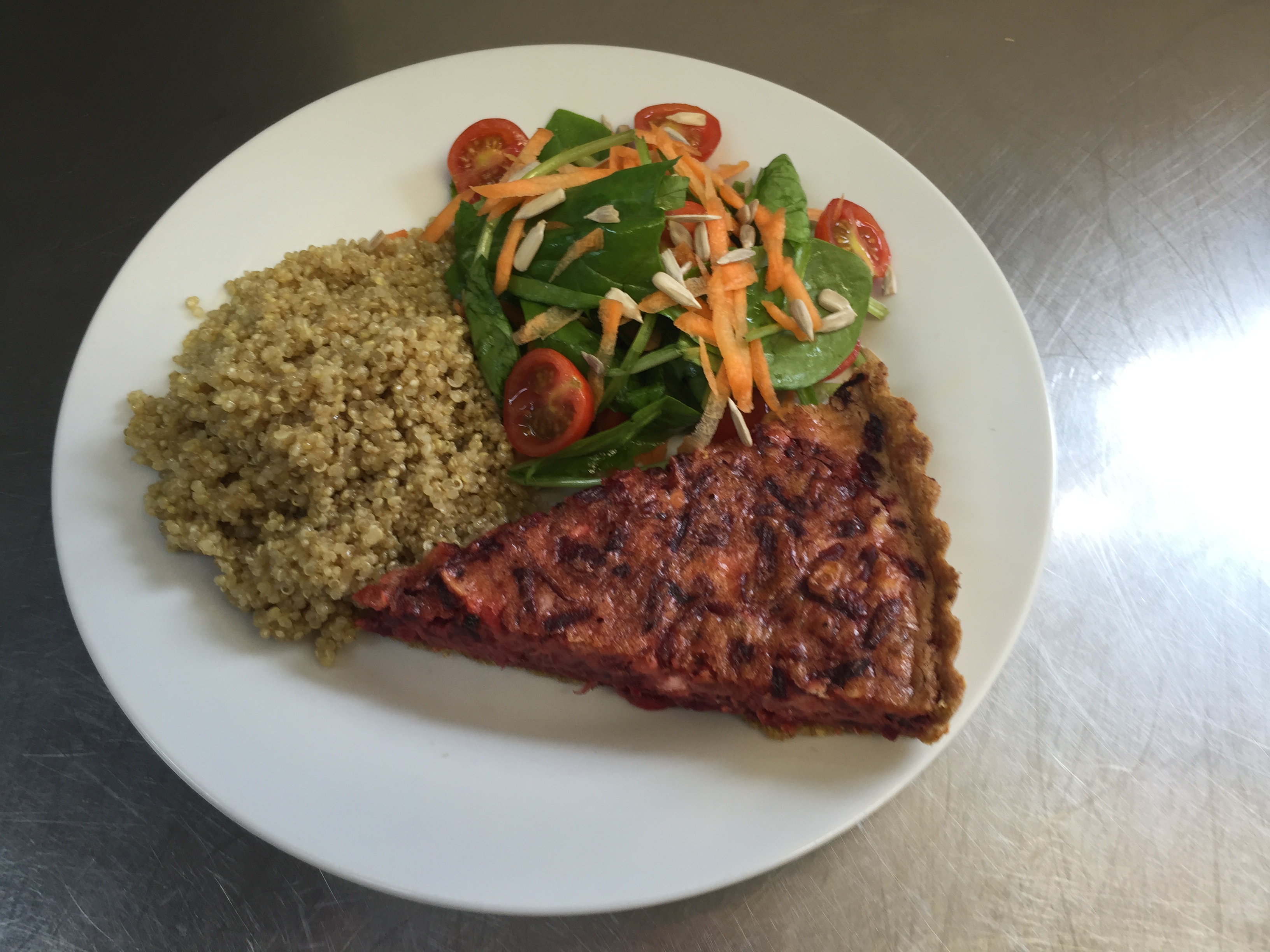 Ingredients
Serves 8
175g Organic Spelt Flour
100g Organic Porridge Oats
100g Organic Butter
100g Organic Carrot
3 Large Organic Onions
3 Medium Organic Beetroot, Cooked & Peeled
3 Organic Free Range Eggs
250ml Organic Double Cream
150g Organic Goats Cheese
Method
Pre-heat the oven to 180c/Gas Mark 4.

Place the flour, porridge oats & butter into a food processor & pulse until it resembles breadcrumbs.

Peel & grate the carrot then place into the food processor with the oats, flour & butter. Pulse again until the mixture comes together to form a dough. You may need to add a little water to help it on its way.

Wrap the dough in cling film & place into the refrigerator to rest for 30 minutes..

Once the dough has rested roll out onto a lightly floured surface & use to line a shallow, loose bottomed tart tin.

Line the pastry case with baking paper & fill with baking beans then place into the oven to cook for 10-15 minutes until the pastry is just starting to turn golden.

Peel & finely slice the onions, add a little oil & butter to a heavy based pan along with the onions & cook for 15-20 minutes until they begin to caramelise.

Grate the beetroot & add to the onions, cook for a further 5 minutes, season with salt & pepper & allow to cool for 10 minutes.

Place the beetroot & onion mixture into the bottom of the pastry case, grate the goats cheese & place on top of the onion & beetroot.

Pour the cream into a jug & add the eggs, whisk together until the eggs are fully incorporated & season with salt & pepper.

Pour the egg mixture over the onion, beetroot & cheese but be careful not to overfill the tart case.

Place into the oven & bake for 30 minutes until firm & golden brown.

Allow the tart to cool in the tin for 30 minutes before removing & slicing. Serve with Quinoa & a salad of organic baby spinach, cherry tomatoes, grated carrot & sunflower seeds.